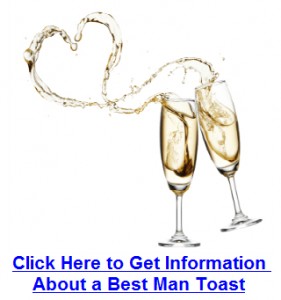 The best man, maid of honor, parents of the bride and groom, even the couple themselves… many individuals have missed their opportunity to make a great wedding toast during the joyous event. There are plenty of reasons why. For example: plain nervousness or just plain unpreparedness for the job at hand. Always, remember this day is very important to somebody. Whether it's your wedding or someone else's, this day means a lot to someone. So don't waste your chance when you can be prepared for it, be relaxed while doing it, and be satisfied with it? Here are some general tips on how to deliver a great speech:
Tip #1 Leave the Exes Out
This is a big no-no in wedding speeches. You must celebrate the present union of the newlyweds instead of dredging up their past relationships, not to mention that you are most likely unaware of the unresolved issues between the couple in this regard. Keep the harmony between the couple by leaving the exes back in Texas, so to speak.
Tip #2 Leave Childhood Memories Out of It
Try really hard to leave childhood memories out of your speech. The only exception is if the bride and groom are childhood sweethearts, then it is perfect to say a little something of their past. Other than that, don't do it! Our childhood is filled with embarrassing moments and things we used to do when we were kids. That could be something that the bride/groom doesn't want anyone to know. So just to play it on the safe side, no childhood memories. Stick to an anecdote – just one will do for most wedding toasts – about how the couple met or how you witnessed their relationship. Just be sure to choose a funny anecdote that will not embarrass the couple.
Tip #3 Leave Sex Out

Honeymoon sex is the elephant in the room – it is there but no one wants to address it. More appropriately, no one should discuss it while making a toast. Be respectful to all guests for example, the young children, teenagers and elderly individuals in the reception venue. Just leave your sex jokes at home. If you are leaving sex jokes out of your toast, leave marriage jokes out of it, too. Yes, we all know that 50% of marriages end in divorce but there's no need to announce it and be The Wedding Grouch.
Tip #4 Stick to the Script
Why spend hours upon hours reading through sample wedding toasts and then not stick to the script when you're saying your speech? Of course, spontaneity has its place in speeches but don't be too spontaneous that you are actually rambling on and on about a topic no one wants to hear at the wedding. Stick to your script and then add spontaneous comments here and there but keep to your time limit and topic. Not only that, but if you don't stick to your script you can possibly say something you were not supposed to.
Tip #5 Leave Your Ego at the Door
Wedding toasts are not about the individuals giving the toasts but about the newlyweds for whom the toasts are being dedicated. Don't try to upstage the bride or the groom because it's their day, not yours. Leave your ego at the door and your speech will be loved by everyone. Not to mention, that you'll be making the couple look good in the process.
Tip: Just introduce yourself and your relationship to the couple in a single sentence, say your well wishes in three to five sentences, and then raise your glass for the toast. Again, it's not about you; it's about the bride and groom.
This is also true about apologizing for your lack of closeness with the bride or the groom. Just say your well wishes and make your toast during the reception. You can make amends when the couple returns from their honeymoon, if you so desire.
Most importantly, leave the booze out of wedding toasts! Drink the booze after you make your toast… Deal?